WHO WE ARE
The Livermore-Pleasanton-Dublin Branch of AAUW, is one of over 1000 branches nationwide, representing more than 100,000 members who seek personal lifelong development and advocate social change and public policy consistent with gender equity.
Our LPD Branch Goal is to Grow and Thrive.
Executive board meetings are held monthly on the first Wednesday and are open to all members. A monthly newsletter, The Grapevine, is sent to all the members and informs them of the monthly program, interest group meetings, and other activities.
Funds are raised during the year for Scholarships, the AAUW Fund, and for Tech Trek – a one-week summer camp at Stanford University.
NEWS AND UPCOMING EVENTS
Membership renewal time is here!  Use this form – to renew or join the branch.
Our Scholarship Foundation is now accepting applications for funding in the 2020-2021 academic year. Women with Junior or Senior status in Fall 2020 may apply. See our Scholarships page for detail.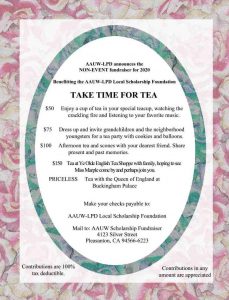 Our LPD Scholarship Fundraiser has begun.  We invite you to our 2020 Virtual Tea Party. Get out your checkbook for donations.  See flyer for details.
Attend the "Suffrage Warriors" presentation on March 8th @ 2 pm. at the Livermore Civic Center Library. Dr. Wendy Rouse, Associate Professor at San Jose State, will talk about the history of the suffragettes. There will also be a quilt on display. Sponsored by the Livermore Public Library and the Livermore Indivisibles. L-P-D will also have an AAUW table with literature. This is a chance to wear our suffragette T-shirts.
The AAUW California convention will be held in Burlingame on April 17-19.  Check the AAUW CA website for more information about the convention. Registration deadline is  April 10; hotel registration deadline is March 20. All members are welcome to attend.
See what's planned for the coming year in our Branch Brochure 2019 .  This is also a good resource to share with potential members!
Members, please note that the branch newsletter, The Grapevine, comes to your email inbox from the address aauwlpdbranch@gmail.com.  The newsletter will be attached.  Please open it up and enjoy all of the valuable information inside.
ON OUR WEBSITE
Check the Calendar for upcoming branch events as well as other events of interest to members.
AAUW's new report : Limiting Our Livelihoods: The Cumulative Impact of Sexual Harassment on Women's Careers is now available. It documents how women of all ages experience workplace sexual harassment and includes recommendations for changes to federal and state woekplace policies.
Upcoming events in the next 7 days are highlighted in the right column. Check our calendar for MORE events. For more information about our branch, download our Branch Brochure . See our membership page to learn how you may join our branch.