AAUW's fellowships and grants are supported by endowed funds – only the interest from the principal in each fund is distributed annually to support scholars, research, and community grants. The endowments are named to honor AAUW members. Four of our branch members have been so honored.
Below is information about the latest recipients of these grants/fellowships.
If you'd like a description of each award, requirements, how to apply for any of these awards and their deadlines, click on the award type at the beginning of each entry. Applications open August 1 each year.
JOAN KAVANAUGH ZEHNDER INTERNATIONAL FELLOWSHIP.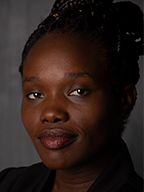 Faith Nyakundi is pursuing an M.A.in Political Science at the University of Washington. Her thesis work focuses on the debate around the foreign direct-investment relationship between Africa and China and the political and economic realities to people on the continent. Her particular area of focus is in critical infrastructure in Kenya. In addition to thesis research, Nyakundi seeks to catalog stories and begin conversations around feminist resistance against gendered violence in Africa owing to her advocacy with women's organizations like the YWCA Walla Walla. Read more about her.; View her video; Click HERE to see profiles of previous recipiets of this endowment.
ANNE LES AMERICAN FELLOWSHIP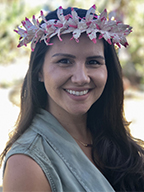 Theresa Arriola is a Ph.D. candidate in sociocultural anthropology at the University of California, Los Angeles. Her research examines the intersections between indigeneity, militarism and the environment in the Northern Mariana Islands. By employing ethnographic methods, her work highlights the strategic role that the islands have played in securing U.S. military interests in Oceania and elucidates how the process of militarization continues to inform the contemporary cultural and political realities of the indigenous Chamorro and Refaluwasch people of the Marianas. Click HERE to see profiles of previous recipients of this endowment.
LPD BRANCH/DAWN GORDNER CAREER DEVELOPMENT GRANT.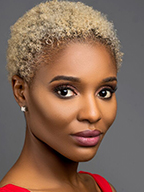 Edwina McGill, better known as Kumba, was born in Liberia and emigrated to the U.S. when she was 8 years old. She spent the last five years working as the U.S. coordinator for a Liberian nongovernmental organization called SMK (Save More Kids), which focuses on empowering and creating opportunities for young people in Liberia. McGill is studying for her master's degree in social innovation at the Kroc School at the University of San Diego in order to further her work in Liberia. Read more about her work with and on behalf of children in Liberia through her Go Fund Me page. Click HERE to see profiles of previous recipients of this grant.
LPD BRANCH/PATRICIA ANN MANN COMMUNITY ACTION GRANT.  
Aisha Christa Atkinson is pursuing a master's degree in educational administration, specializing in Pre-K through 12th grade school leadership from Texas A & M International University at Laredo, Texas. She is a seventh-year, English language arts teacher aspiring to become a campus administrator who advocates for the opportunities and resources that address the linguistic needs and the career and college readiness of English language learners and at-risk students. Additionally, she is also committed to recruiting, mentoring and retaining teachers of color as well as fostering their growth into equicentric leaders who will invest in the development of minority educators and students. Read more about her in the news of Goldsboro, North Carolina. Click HERE to see profiles of previous recipients of this grant.