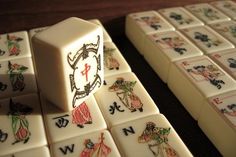 Games will resume in September.
Our Mah Jongg group meets on the 1st and 3rd Tuesdays of the month from 1 – 4 PM at member homes. Contact JoAnn for more information.
The group is seeking new members.  No prior experience required.  We play American Style Mah Jongg–a fast-moving game that is a mix of strategy and luck–fun for beginners as well as experience players!  Game sets are provided.