Our branch established it's unique Tribute to Excellence Award to honor one graduating Las Positas College woman annually for her achievement both in academics and in service to her community. The recipient is chosen by the Las Positas Foundation and a college committee. The applicant should have a good academic background, 90 units of college credit and plan to work toward al bachelor's degree. The nominee shall be actively involved in community service. Currently the award is for $500.00
It is funded through the regular branch budget. See list of awardees snce 2005. The 2020 awardee will soon be announced.
Recent recipients include:
2019:
Alisha Shaik
Alisha Shaik attended Amador High School in Pleasanton. While at Las Positas College she was the first ever Student Trustee for the Pleasanton Unified School District Board of Trustees representing Middle College. She is president of Interfaith for Youth. She will attend U C Berkeley in the fall of 2019 as a psychology major. She hopes to attend medical school one day.
---
2018:
Roujheen Sabayen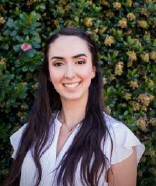 Roujheen Sabetan graduated from Amador High School in Pleasanton in 2016 as an AP Scholar with Distinction. She received an Outstanding Student in Cell and Molecular Biology award while attending Las Positas College. She will transfer to UC Berkeley in the fall of 2019.  She hopes to obtain a Masters Degree in Public Health, focusing on community- based settings where the population have been underserved.
---