Our branch has a long history of supporting STEM (Science, Technology, Engineering, Mathematics) projects, as in the 1980s we were one of the first branches in the nation to organize a local Expanding Your Horizons Math-Science Conference for girls. We were among the first branches to send a camper to the Tech Trek camp for girls when it began in 1998 as a project of AAUW of California, and have sent campers annually each year.  Another new program started in 2017 is STEAM Divas.

EXPANDING YOUR HORIZONS
See the April 2018 newsletter (page 8) for information on this year's event!
Today the local Tri-Valley conference is organized by staff at the Lawrence Livermore National Laboratory and Sandia Laboratories.  It serves girls in grades 6 – 9 and is held each year in late February.  The next conference will be on Saturday, February 24, 2018, at the San Ramon Campus of Diable Valley Community College (DVC).  AAUW-LPD provides support staff for the event each year;  Contact Dot for more information on volunteering for this fun event.

TECH TREK
Thank you!!
$150 was collected from the fishbowl at Campo di Bocce as their donation to Tech Trek 2018.
A key component in AAUW-LPD's STEM outreach program is Tech Trek, summer camp, a week-long, hands-on science & math camp for girls entering the 8th grade. The first Tech Trek camp was held in 1998, on the Stanford Campus;  AAUW-CA soon expanded the program to other college and university campuses throughout California.  Today, there are 22 camps nationwide, in 10 states, including 10 camps on 8 different campuses in CA.
Since its inception, the Livermore-Pleasanton-Dublin branch has sent local girls to Tech Trek. In 2017, we sponsored nine middle school girls to attend Camp Marie Curie  at Stanford the week of July 9 – 15.
In March 2018, a committee of branch members interviewed 28 applicants for the 2018 tech Trek Camp Curie.  LPD AAUW will be able to send 8 campers this year and have requested an additional slot.  Watch this page for information about their experiences!
Tech Trek is an all-scholarship, STEM-focused camp designed to develop girls' interest and excitement in science, technology, engineering, and math, as well as to increase their self-confidence.  It features hands-on activities & field trips in math, science, engineering and technology.  Instructors and guest speakers are local STEM professionals, from companies such as Pixar and VMWare. Campers have the opportunity to meet and learn from many successful women in STEM careers.
We have an active Tech Trek committee which distributes information about Tech Trek to local public middle schools to solicit nominees, conducts interviews and selects campers. Pre-camp orientation, as well as post-camp presentations and follow-up activities, allow Branch members to meet the girl attendees & hear about their experiences. In addition, Branch members are encouraged to volunteer at camp.  A variety of opportunities exist, with commitments that range from a few hours to spending the week as a Dorm Mom. For more information on volunteer opportunities at a future camp, contact LPDTechTrek@gmail.com.
LPD's nine 2017 Tech Trekkers enjoyed a fabulous week on the Stanford Campus.  Camp Curie once again offered our girls an eye-opening week of hands-on math and science.  The girls enjoyed living in a dorm on campus, where they were well-looked after by their dorm moms, and spent each morning attending their core class.  These included Marine Biology, Forensic Science, Engineering Design, Computer Coding, and Cyber Security.  Afternoons and evenings were spent exploring other areas, such as Artificial Intelligence, Astronomy, and Nanotechnology, going on field trips, and attending a Professional Women's Night where they met women working in a variety of inspiring STEM careers.
Eight of our nine 2017 Trekkers and their parents joined us at the September Luncheon and regaled us with stories of their Tech Trek experience at Camp Curie on the Stanford campus in July.  A couple common themes were that Tech Trek opened their eyes to so many STEM careers that they didn't know existed and how much they enjoyed meeting and making friends with other girls who love math and science. And all were excited to hear that one of our LPD Scholarship recipients this year (Cassandra Stanley) was a former LPD Trekker!
All fund to send LPD girls to camp are raised locally.  The Tech Trek committee will especially be
relying on members' generosity this year, as one of our grants from previous years will not be
forthcoming this year. It costs $1,000 to send a girl to camp; while we have some carryover
funds from last year, we have a long way to go – so please think about supporting this wonderful program if you are able!
Every contribution makes a difference!
$25/$50 Pays for a field trip for one camper
$200 Provides for one full day at camp
$500 Covers half of a sponsorship
$1000 Awards a full sponsorship
$3000 Funds three sponsorships
It's easy to donate: checks should be made out to "AAUW", with "LPD Tech Trek" in the memo
line. Mail checks to: Tech Trek, AAUW-LPD, P.O. Box 661, Livermore CA 94551.  100% of all donations go to sending girls from Livermore, Pleasanton, and Dublin to camp and
are 100% tax-deductible.  Donations are welcome year-round from anyone–members and non-members alike!  For more information, contact Wendy Ping, AAUW-LPD Tech Trek Coordinator.
LLNL employees and retirees can also donate to AAUW-LPD Tech Trek through the Home Campaign, which supports local non-profits.
LPD Members are especially encouraged to support Tech Trek annually during the dues renewal period, but donations are welcome year-round, from anyone.
Do you work for a company, or belong to an organization, that supports STEM Education in the community?  Please let us know how we can apply for a grant!  Email Tech Trek at LPDTechTrek@gmail.com.
2017's Tech Trek included a wide variety of activities, including (top to bottom):
Learning about real-life money management & budgeting in "Mad City Money"
Exploring circuitry & learning to solder, to build a flashlight
Dissecting s squid
Getting creative at "Build It Night."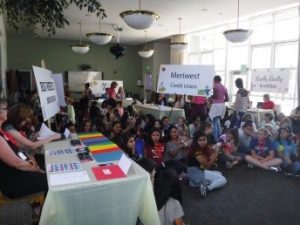 STEAM DIVAS
Women still today make up a disproportionately low percentage of the work force in STEM (science, technology, engineering, and math) fields.  Subtle — and not so subtle — messages discouraging girls from science, math, and other tech fields, begin as soon as first grade or even earlier.  This status quo is simply not something we as a society can afford to accept.
Encouraging girls and women to pursue studies and careers in STEM fields is a key component of AAUW's national mission.  The Livermore-Pleasanton-Dublin (LPD) Branch is actively engaged in this important mission with girls in our local communities.   In 2017, one of the programs developed for girls was STEAM Divas.
On Saturday, September 30th, 27 5th grade girls from Livermore schools spent their morning participating in fun hands-on STEM workshops, each with an interwoven art component.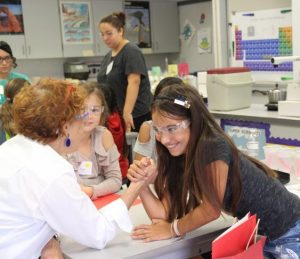 STEAM Divas was a pilot event organized by AAUW-LPD in collaboration with the Expanding Your Horizons (EYH) Network, and with the support of the Livermore Valley Joint Unified School District (LVJUSD).  The annual EYH Conference, now in its 40th year, is well-known in the Tri-Valley.  The day-long conference for girls in the 6th to 9th grade, next scheduled for February 24, 2018, offers hands-on workshops designed to encourage girls to consider education and career options in STEM.  AAUW-LPD, a long-time partner in the execution of the annual Tri-Valley EYH Conference, wanted to engender excitement in STEM at a younger age with 5th grade girls since it is known that girls' interest in STEM fields can begin to fade as early as elementary school.
Girls participating in STEAM Divas rotated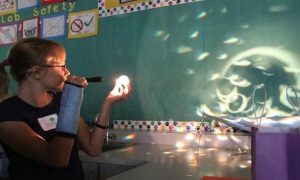 in small groups through three workshops:  Fun with Energy; Prisms, Colors & Angles; and Get Creative with Code.  Former AAUW-LPD Tech Trekkers, now in 8th to 12th grade, served as workshop aides, having fun with the younger girls while also serving as great role models.
The Livermore-Pleasanton-Dublin Branch of AAUW would especially like to thank Nob Hill Foods on Stanley Blvd in Livermore,  the Clorox Company, Lawrence Livermore National Laboratory and the Tri-Valley EYH Conference for their generous donations to the STEAM Divas event.  AAUW-LPD, in continued collaboration with the EYH Network, hopes to expand this event next year to include events in Livermore, Pleasanton and Dublin in their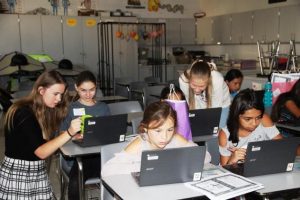 continuing efforts to keep girls excited about science, technology, engineering, and math from a very young age!
All STEAM Divas photo credits:  Lisa Rigge