Our branch has a history of supporting the AAUW Fund – specifically of supporting the fellowships and grants programs. In past years we would often have an annual major fundraiser  – which supported the establishment of three endowments, which will continue in perpetuity – as long as AAUW exists. The National AAUW website has profiles of recipients for the past 10 years or so.
In 1988, our branch completed funding for the Livermore-Pleasanton (CA) Branch/Dawn Gordner Endowment. We honored Dawn because of her many years of dedicated service to the branch and to the Pleasanton community. Gordner was branch President in 1974-1975. She served on various City of Pleasanton boards and commissions and on AAUW of California committees. This endowment supports women who have completed an undergraduate degree and are now continuing education in support of Masters degrees OR supports people with community projects.
The current recipient of the Gordner endowment is Suzette Shipp, who is attending San Francisco State Universirty and is pursuing an M.S. in Biology with a focus on stem cell research. In her research, Suzette Shipp is developing a humanized mouse model for the study of immunological disease. Prior to pursuing her master's, she worked extensively in international affairs in Africa and the Caribbean. She is dedicated to helping young women of color to achieve their academic goals, especially in science. She is also an enthusiastic scuba diver. Her grant from AAUW is supported by seven branches.
---
In 1993 the branch completed funding (with the help of other branches in California) for the Joan Kavanaugh Zehnder International Endowment. Zehnder served as branch President in 1980-81. She followed with participation in AAUW-CA business, and served as state Program Vice President and later was the local arrangements chair for the 1992 International Federation of University Women gathering at Stanford University. Zehnder was also involved with her family buisiness and is a past-President of the Pleasanton Chamber of Commerce. This endowment supports scholars from other nations who are pursuing both graduate and postgraduate work by students who are not U.S. citizens or permanent res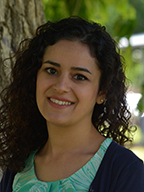 idents at U. S. colleges and universities.
The current recipient of the Zehnder endowment is Fattaneh Naderi Behdani of Iran, who is studyiong at New Mexico State University, pursuing a Ph.D. in Environmental Engineering with a focus on Chemical Engineering. Her research on the desalination of brackish water using electrodialysis will be of great value to the water treatment industry. After graduating, she hopes to implement her lessons in her home country, Iran, a country that suffers from lack of access to fresh water. She also plans to promote women's participation in engineering. She is supported by three AAUW grants.
---
In 1999 the branch completed funding of the Pat Mann Research and Projects Endowment. Mann served as branch President in 1992-93. In later years she served on AAUW of California's Public Policy Committee. Mann was an active member of the League of Women Voters and has been a great su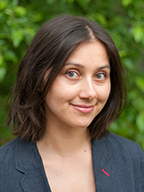 pporter of the performing arts in her hometown of Livermore. She had a career as a family counselor.
The current recipient of the Mann endowment is Richelle Suttle, a student at the University of North Carolina, Chapel Hill, pursuing a M.S., in Occupational therapy. She intends to work with people with dementia and their caregivers. Her research focuses on the knowledge and capabilities of group home staff that support individuals with intellectual disabilities and dementia. She currently works as an advocate for individuals with intellectual disabilities.
An additional branch member, Anne Les was honored with an American Fellowship in her name. Anne has been an active member of several California branches and served twice as California AAUW Chair/Vice President of what is now known as the AAUW Fund.
---
The current recipient of the fellowship is Cloe-Mai Le Gall-Scoville, a student at UC, Davis,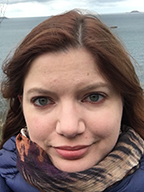 pursuing a Ph.D. in 19th-century French and English literature. Her project is titled: Colonial Hybrids: Race and Gender in 19th Century French and English Fictions of Empire. It explores the ways in which 19th-century French and English literature engages with imperial discourses about race and gender. More specifically, it addresses representations of women of color, mixed-race women, and Creole women in Romantic, naturalist, and realist texts. Her other research interests include postcolonial literature, feminist theory, and translation theory.
Check out the AAUW Fund Historical Timeline to learn about AAUW's 125+ year history of supporting women in higher education.
View the video of the history of AAUW Fellowships and grants